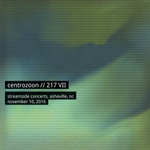 released May 01, 2017 | Recorded live on the 20th Anniversary Tour at Streamside Concerts, Asheville, NC, USA on November 10 2017
These pieces are unedited and the mix is just like what was going out to the P.A. that night. That might include clicks and digital dropouts.
GEORGE'S ROAD DIARY
Date: 10 NOV 2016
Venue: Streamside Concerts, Asheville NC
A long drive ahead of us down I-81 from our hotel in Staunton, VA. Stopped for breakfast in Natural Bridge VA at the Pink Cadillac Diner for a slice of Americana. Great food and atmosphere, friendly people. Now, I've been through western NC before, but never via Tennessee through the Blue Ridge Mountains – some amazing scenery.
Upon our arrival at Streamside, the first thing we noticed was the steep and winding main driveway down to the venue!!! First challenge of the day: getting down there without bottoming-out or unintentionally off-roading. 😉
The grounds and the venue are stunning, such an inspirational performance space! The main room has a vaulted ceiling and large stone fireplace, with large windows providing a beautiful backdrop of the surrounding wooded estate. Markus and Bernhard were in top improvisational form (listen for yourself!) for a warm and receptive crowd. As an added bonus, a few old friends of ours were in attendance!
Many, many thanks to our hosts Sally Sparks and Lora Tannenholz – your hospitality is legendary! 🙂
…and for those wondering: I chickened-out and took the secondary flat driveway out. 😉
credits
Music composed by Markus Reuter and Bernhard Wöstheinrich
Bernhard Wöstheinrich: Synthesizers and Sequencers
Markus Reuter: Touch Guitars® U8, Processing, Live Mixing
Mixed and mastered by Markus Reuter using a Moon by Simaudio Neo 230HAD headphone amp/DAC, March 2017.
Produced by Markus Reuter (for Unsung Productions)
George "G$" Bley: Tour Manager, Driver, Roadie, Merch Magician
Special thanks to Sally Sparks and Lora Tannenholz