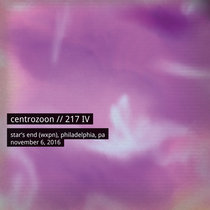 CZ217IV | released February 1, 2018 | Recorded live on the 20th Anniversary Tour at WXPN, Star's End, Philadelphia PA, USA on November 6 2016.
These pieces are unedited and the mix is just like what was going out to the P.A. that night. That might include clicks and digital dropouts.
GEORGE'S ROAD DIARY
Date: 06 NOV 2016
Venue: WXPN, Philadelphia PA
After the Chez Thomas show in Mt. Laurel NJ, we headed across the Delaware River to perform on WXPN's late-Saturday-night/early-Sunday-morning radio show Star's End, hosted by our good friend Chuck Van Zyl.
I remember when I first approached Chuck about centrozoon playing Star's End on this tour…August 2016, Markus (solo) played The Rotunda, here in Philly, with Nocturne Blue and Elliott Sharp…Chuck was in the audience…now, Chuck thinks centrozoon is usually a little "too out there", however I know he's a fan of the first centrozoon album, "Blast", as he wrote a beautiful review of it when it was released many years ago. After the show, amidst the chaos of breaking down and packing up gear, I had to really sell it and convince him that the upcoming tour was revisiting the "Blast" era, and that centrozoon's Star's End performance would be appropriate for his audience 🙂
We didn't let you down 😉
Many thanks to all of our friends who tuned in to listen! Thanks to Jeff Towne, Rich Stankiewicz, and a HUGE thank you to our friend Chuck Van Zyl for your hospitality and for hosting such an outstanding evening (er…morning?)!
Well…we've been up for almost 24 hours and did two shows…next stop is WLFR on Tuesday, so we'll sleep till then…
credits
Music composed by Markus Reuter and Bernhard Wöstheinrich
Bernhard Wöstheinrich: Synthesizers and Sequencers
Markus Reuter: Touch Guitars® U8, Processing, Live Mixing
Mixed and mastered by Markus Reuter using a Moon by Simaudio Neo 230HAD headphone amp/DAC, July 2017.
Produced by Markus Reuter (for Unsung Productions)
George "G$" Bley: Tour Manager, Driver, Roadie, Merch Magician
Special thanks to Chuck Van Zyl