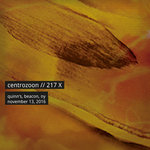 CZ217X | released May 1, 2018 | Recorded live on the 20th Anniversary Tour at Quinn's, Beacon, NY, USA on November 13 2016.
These pieces are unedited and the mix is just like what was going out to the P.A. that night. That might include clicks and digital dropouts.
GEORGE'S ROAD DIARY
Date: 13 NOV 2016
Venue: Quinn's, Beacon NY
A long drive up from last night's show in Potomac, MD… but always great coming back to Quinn's! Quinn's is a great little "intimate" venue in Beacon, NY with an exceptional menu, extensive beer selection, a great staff, and always a good crowd! We've been here many times before (in various combinations) and love coming back.
Tonight's festivities included an inspired opening set by good friend (and local resident) David Rothenberg, followed by Markus & Bernhard; indeed, a superlative evening of fine musical explorations.
After some post-show socializing, we headed back to "'zoon central" in NJ for a much needed day off before the final leg of the tour.
Thanks to everyone who came out, and a special thanks to David Rothenberg and James Keepnews.
credits
Music composed by Markus Reuter and Bernhard Wöstheinrich
Bernhard Wöstheinrich: Synthesizers and Sequencers
Markus Reuter: Touch Guitars® U8, Processing, Live Mixing
Mixed and mastered by Markus Reuter using a Moon by Simaudio Neo 230HAD headphone amp/DAC, July 2017.
Produced by Markus Reuter (for Unsung Productions)
George "G$" Bley: Tour Manager, Driver, Roadie, Merch Magician
Special thanks to Special thanks to David Rothenberg and James Keepnews