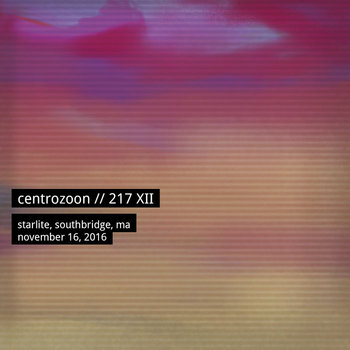 released January 7, 2017 | Recorded live on the 20th Anniversary Tour at Starlite Gallery, Southbridge, MA, USA on November 16 2016.
These pieces are unedited and the mix is just like what was going out to the P.A. that night. That might include clicks and digital dropouts.
GEORGE'S ROAD DIARY
Date: 16 NOV 2016
Venue: Starlite, Southbridge MA
This was the last show booked/confirmed for the 2016 centrozoon U.S. tour, finally filling a gaping hole in the tour calendar wedged between the Philly and Connecticut shows.
This club/art gallery/performance space in Southbridge was recommended to me during a phone conversation with Tom Palmieri (a friend who manages the prog band Circuline). After doing some research of the venue (their Facebook page), I saw this as a perfect fit, not only because of their proximity to the next night's show (which was a +), but mainly for their appreciation and support of diverse artists and projects (the performance space is great, too!). Already having an established relationship with the venue, Tom graciously made the booking for us (like I said, Tom – I owe ya' one!).
During soundcheck we quickly discovered the wonky (i.e., "unorthodox") method in which the sound system was wired: basically mono – the right channel powering both the performance space as well as the bar area next door and the left channel powering the subs (???). This wouldn't work for us; not only for the obvious loss of spatial placement within the stereo spectrum of various sounds, loops, etc., but for the spacial/phasing effects now being destructive (in short,"phasing" refers to the splitting of the audio signal and modulating one of the signals, resulting in a pleasing, lush sound when played stereo…however, played mono can cause the split signals to periodically cancel each other out, resulting in a sound that's not so nice… that's just the physics of waveform cancellation).
Thanks to an 11th-hour, massive on-the-spot rewiring effort by the venue crew, Tom, and Markus, this venue has a "new" sound system that never sounded as good as it does now!
credits
Music composed by Markus Reuter and Bernhard Wöstheinrich
Bernhard Wöstheinrich: Synthesizers and Sequencers
Markus Reuter: Touch Guitars® U8, Processing, Live Mixing
Mixed and mastered by Markus Reuter using a Moon by Simaudio Neo 230HAD headphone amp/DAC, December 2016.
Produced by Markus Reuter (for Unsung Productions)
George "G$" Bley: Tour Manager, Driver, Roadie, Merch Magician
Special thanks to Tom Palmieri and Demetri Kasperson